Korea's only specialized Graphene company Graphene Square Inc. is equipped with the top COMMITTEE as its growth engine
Recently, the Korean government announced plans to fund up to $17 billion dollars through 2025 to increase and grow the country's Graphene industry while setting goals to further foster the growth of 34,000 related jobs. Graphene Square, as a venture firm based in Korea, has received recognition as a pioneer in large scale production and commercialization capability in midst of growing global competition. Graphene Square has evolved as a R&D based firm specialized in Graphene films in the domestic market while exporting its innovative Graphene and other 2D material synthesis equipment abroad.

In 2013, Graphene Square transferred 40 commercialization related patents from Sungkyunkwan University at a cost of $2.5 million dollars. The large scale transfer of key patents established the platform to continue R&D towards greater IP assets which has led to Graphene Square's further development of technology towards commercialization and large scale production. As a result, the company has a solid position towards possiblely replacing the current Indium Tin Oxide [ITO] in touch screen parts in applications such as smart phones, LCD TV's and displays.
Currently, the company is participating in the "Graphene material technology development" project under Korea's Ministry of Industry specifically focusing on applying Graphene on curved glass. Such research is leading towards high quality Graphene synthesis as well as skills in developing top notch Graphene synthesis equipment.
Professor Byung Hee Hong started Graphene Square Inc. as a spin-off company in January 2012 while Professor Philip Kim from Harvard University came on board as a Scientific Advisor. In addition, as of September 2014, the company is privileged to have key board members: former CEO of INICIS Co. and current CEO of Primer Co., Douglas Guen, former Samsung Electronics Chemical Division Vice President, Duck Joo Yang and currently Professor at University of Texas at Dallas. This group of mentors all have the _common goal and mindset of developing Graphene Square and Korea as a Super Power in Graphene technology and in the Graphene industry.
The R&D team has been strengthened and raised to the next level as well by recruiting former Samsung SDI Senior Research Engineer, Quang Trung Truong, PhD, and the former Principal Research Engineer at LG Flexible Display, Wan Soo Kim, PhD to formally lead in the development of commercial applications for Graphene.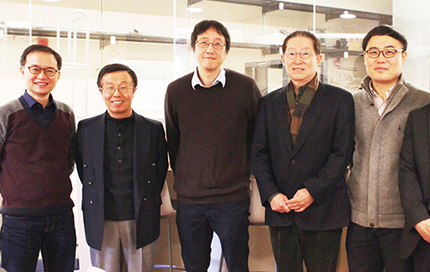 Douglas Guen, Director (current CEO of Primer Co., former CEO of INICIS Co.), In Hee Lee, Strategic Consultant (former Vice President of 3M), Philip Kim, Scientific Advisor (current Professor at Harvard University), Duck Joo Yang, Director (current Professor at University of Texas at Dallas, former: Head of Asia Division at DuPont, Samsung Electronics Chemical Division Vice President), Byung Hee Hong, Technology Consultant (current Professor at Seoul National University, Founder of Graphene Square In
The path and wall to Graphene commercial applications are yet high and but in steady progress at Graphene Square. Furthermore, based upon the decades of expertise and experience brought on by four Directors and Committee Members, two of which are​ from the two behemoths of global materials companies, 3M and DuPont, Graphene Square is speeding ahead and will lead in the (mostly unknown) world of Graphene with key technologies in hand, leading Korea as a Super Power in material science.